News!
8/1/20 -- Welcome to our two newest Junior Specialists, Samantha and Sabrina!
7/1/20 -- Three new CIRM Bridges Masters' students joined the lab! Welcome, James, Ryan, and Tyler!
5/30/20 -- Lalitha received the TRDRP pre-doctoral fellowship/training grant! Congrats, Lalitha!
3/26/20 -- Kasey received the TL1 pre-doctoral fellowship/training grant! Congrats, Kasey!
3/26/20 -- Lalitha passed her qualifying exam! Congrats, Lalitha!
1/1/20 -- Congratulations! Drs. Dake Hao and Kewa Gao both received the Shriners hospital postdoctoral fellowship/training grant!
Latest News
There are currently no news posts to display.
Articles
2020
August 17, 2020
Surgical and engineering researcher wins national dialysis innovation award
Funding will be used to create bio-engineered vascular grafts.
Congratulations to Dr. Wang for his recent KidneyX award in developing next-generation vascular grafts for end-stage renal disease patients' hemodialysis applications. He plans to engineer a layer of stem cell-capturing molecules to coat the surface of the grafts, forming a "living" endothelium that functions much like a native vein. The new grafts are expected to reduce thrombosis, infection and the need for repeated replacement of failed grafts.
March 12, 2020
Our new study published and featured by Stem Cells Translational Medicine (SCTM) as the Front Cover story:
Induced Pluripotent Stem Cells Show Success in Treating Hemophilia A in Mice
This study is in the top 5% (the 97th percentile) of all research outputs ever tracked by Altmetric:  https://wiley.altmetric.com/details/77402928
STEM CELLS Transl Med: https://stemcellsportal.com/press-releases/induced-pluripotent-stem-cells-show-success-treating-hemophilia-mice
Medical Health News (Alternative Medicine): http://www.medicalhealthnews.net/cell-btherapyb-seen-to-ease-blood-loss-in-hemophilia-a-mouse-model
Hemophilia News Today: https://hemophilianewstoday.com/2020/03/23/cell-therapy-seen-to-ease-blood-loss-in-hemophilia-a-mouse-model/
March 9, 2020
Dr. Aijun Wang was appointed as the Vice-Chair for Translational Research, Innovation, and Entrepreneurship for the Department of Surgery at UC Davis to advance the department's footprint in medical innovation, device development, and entrepreneurship.
Dr. Wang is one of the PIs leading the exciting BME Quarter@Aggie Square program selected and supported by the UC Davis Provost office

Biomedical Engineering: A Bench-to-Bedside Experience at the UC Davis Health Campus
Biomedical Engineering: A Bench-to-Bedside Experience at the UC Davis Health Campus will give third-year biomedical engineering majors exposure to their field in the clinical environment, bringing engineering faculty together with medical departments. 
Dr. Wang invited to give a talk at the 2020 EV-based Diagnostics, Delivery & Therapeutics
EV-based Diagnostics, Delivery & Therapeutics
Dr. Wang Recognized as a 2020 UC Davis Chancellor's Fellow 
January 21, 2020
UC Davis has named its new class of Chancellor's Fellows, marking the 20th anniversary of the program that provides philanthropic support to exceptional early-career faculty members. 
Dr. Wang's research focuses on developing innovative tools, technologies and therapeutics that combine molecular, cellular, tissue and biomaterial engineering to promote tissue regeneration and restore function. One of his lab's main efforts has focused on isolating stem cells from human placental tissue, then using those stem cells to treat birth defects such as spina bifida and hemophilia. In addition to published papers, he functions as an influential advocate for academic entrepreneurship. 
"Dr. Wang is an extremely talented young scientist who has demonstrated that his academic productivity is rigorous and innovative. ... His many publications, patents, conference invitations, and awards are a testament to his success as a leader in his field." — Ted Wun, associate dean for research, School of Medicine
Find out more about the 20th Class of UC Davis's Chancellor's Fellows
---
2019
Hemophilia News Today highlighted our study on hemophilia
Cell-based Gene Therapy May Offer Long-term Treatment for Hemophilia A, Mouse Study Suggests
January 28, 2019
Cell therapy with endothelial progenitor cells and stem cells genetically engineered to produce a functional clotting factor VIII (FVIII) may provide a stable and long-term...
hemophilianewstoday.com
Stem cell byproducts provide insight into cure for spina bifida
March 8, 2019
A diagram of an infant born with spina bifida, a birth defect where there is an incomplete closing of the backbone portion of the spinal cord. Photo courtesy of the Texas Children's Hospital …
blog.cirm.ca.gov
Researchers aiming to cure spina bifida get a step closer to their goal
March 9, 2019
Researchers on the path to finding a cure for spina bifida have identified specific elements in stem cell secretions as key to protecting neurons and ultimately reducing the lower-limb paralysis as...
www.eurekalert.org​​​​​​
Dr. Farmer talked about our translational spina bifida research at UC Davis and the $5.66 million grant awarded to Dr. Farmer and Dr. Wang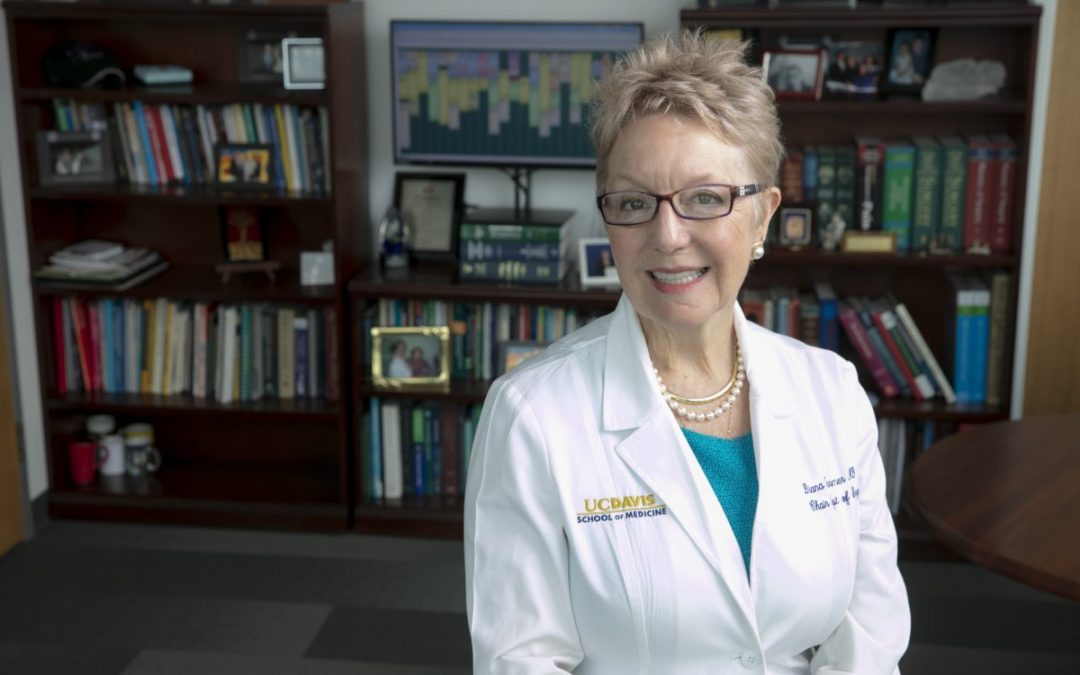 Spina Bifida Research at UC Davis Provides Hope
August 6, 2019
Spina bifida is the most common permanently disabling birth defect in the United States. About 1,645 babies are born in the U.S. with spina bifida each year, and fetal surgery and research is givin...
www.fetalhealthfoundation.org
Dr. Wang giving a talk at UC Riverside
Colloquium Speaker: Aijun Wang; Associate Professor, Department of Surgery and Biomedical Engineering, University of California, Davis
---
2018
Our work with stem cells was highlighted in an extensive piece in the Los Angeles Times in 2018
Poisoned pets, preemie foals, dogs with spina bifida: UC Davis' top-ranked vets see them all
January 7, 2018
At UC Davis, doctors in the world's #1 veterinary medicine program insert stem cells into bulldogs with spinal bifida and assess lame horses with the most advanced scanner ever — a Saudi prince onc...
www.latimes.com
Promising Approach to Curing Spina Bifida Gets $5.6 Million from Stem Cell Agency
November 15, 2018
Every day in the U.S. four children are born with spina bifida. It is the most common cause of lifelong paralysis and also frequently leads to other serious health problems affecting the bowel and …
blog.cirm.ca.gov​​​​
Hits and Myths as people celebrate Stem Cell Awareness Day
October 15, 2018
Every year, the second Wednesday in October is set aside as Stem Cell Awareness Day, a time to celebrate the progress being made in the field and to remind us of the challenges that lie ahead. Whil…
blog.cirm.ca.gov
Dr. Wang presented at the Inaugural UC Pitch Day orgnized by UC Biomedical Research Acceleration, Integration and Development (BRAID), a group of five UC medical campuses, and the UC Center for Accelerated Innovation (CAI), and UC Irvine Applied Innovation
University of California holds Inaugural UC Pitch Day Event at Applied Innovation
December 13, 2018
University of California Biomedical, Research, Acceleration, Integration, & Development (UC BRAID) creates opportunities to improve health for Californians and beyond. Our...
www.ucbraid.org
---
2017
University of California highlights our study "Puppies benefit from stem cell treatment for children with spina bifida"
Puppies benefit from stem cell treatment for children with spina bifida
August 29, 2017
A UC Davis-developed therapy that shows great promise helps two pups in need.
www.universityofcalifornia.edu
DailyMail highlights our stem cell treatment for spina bifida in English bulldog puppies
Bulldog puppies with spina bifida get stem cell treatment at UC Davis
September 20, 2017
Siblings Darla and Spanky were treated with a therapy for children with spina bifida. A video shows the puppies showing off their ability to walk, run and play in Davis, California.
www.dailymail.co.uk
---
2015
ScienceDaily talked about our prenatal stem cell treatment for spina bifida
Prenatal stem cell treatment improves mobility issues caused by spina bifida
April 27, 2015
The lower-limb paralysis associated with spina bifida may be effectively treated before birth by combining a unique stem cell therapy with surgery, new research has found.
www.sciencedaily.com